Music/Dance/Culture in Dakar-Part 2
December 16, 2022
by Madeline Liberman
I'm back to tell you about the last part of a full and fascinating week in Dakar! Our day trip here was a visit to Gorée Island. Originally inhabited by Lebu people, the Portuguese were the first Europeans to reach the island back in 1444. Dakar and Gorée are at the westernmost part of Africa, close to the Americas, and Gorée was a safe haven for ships and a strategic commercial location for European powers. After the Portuguese, the Dutch were next to control the island in 1627, and then the French in 1667 (although they fought over it with the British). All of the different European powers are represented in the architecture and colors of Gorée, which is one of the first things I remarked when we approached the island from the ferry. As our guide explained later, each color is from a different empire's architecture. The colors are quite vibrant and joyful, which is a rather bewildering contrast with the grim history of the island.
Gorée's location made it a key stop in the Atlantic slave trade- it was a sort of holding station for enslaved people captured in Africa before they were brought to the Americas. While the numbers are heavily disputed, some estimate that as many as 20 million enslaved people passed through the island between 1536 and 1848. All of us were certainly in a somber mood when we arrived, since we already knew some of the gravity of this location, but we learned much more at our first stop, the Maison des Esclaves (House of Slaves).
Gorée has many houses that held enslaved people, but this is the last one that survives on the island. It dates from 1776 and was built by the Dutch. Our guide first led us through the first floor of the house, where enslaved people were held. The horrifying information we were given on the conditions that people were kept in, combined with the sensory experience of standing in these former cells, was really difficult to process. At the same time, we knew how important it was to sit with our discomfort and horror- especially those of us, like myself, whose ancestors never experienced slavery. Each of us individually walked up to the Door of No Return, the place where enslaved Africans stepped onto slave ships and left their continent and loved ones forever. When I stood there and looked at the vast blue ocean and sky outside, I tried to imagine what it would be like to never be able to return home or see my family and friends again. It was an impossible but nonetheless sobering task. We unfortunately were not able to spend as much time at the Maison des Esclaves as it merited, because we arrived late. All the same, I know that I will never forget it.
But despite all of its important history, Gorée also has a current population of about 2,000 people, and we saw a little of their artisanal work next. We visited the studio of an artist who makes paintings from colored sand- the different colors come from different parts of Senegal. All of us bought sand paintings to give as gifts back home. We climbed up Gorée's steep tree-covered hill next, where we could see sheep (I think?) grazing and kids singing. On the way, tons of artisans and vendors offered us jewelry (especially the shell necklaces and bracelets that the island is known for), colorful paintings and fabric collages, and bright printed bags and clothing. We also saw another sand artist who creates images out of different colors of sand in bottles. There's no glue- he uses only a stick to push the sand into place. The sand is packed so tightly after that you can shake the bottle and the image stays in place.
When we reached the top of the hill, huffing and puffing, there was a stunning view of the island and of Dakar. And when we descended, we were treated to a delicious lunch with an ocean view. For the first time this semester, there was some real heat in the food- as much as I loved French and especially Moroccan food, they are not very spicy! Here, I got fish brochettes that were served with a tiny bowl of really hot pepper sauce that I absolutely adored. And of course, I covered everything in yassa sauce as well. For dessert, we were going to all get fruit salad, but Yvannah (from the APA Dakar team) begged the restaurant to give us their ice cream as well, which she said she loved. I tried both, and she was so right- it was some of the richest, best ice cream I've had.
After lunch we browsed a few touristic shops, and then it was off to the beach for the rest of the afternoon. The ocean water was so clear and the perfect temperature (for me, at least)- I ran straight in and swam around happily for a while. Then we boarded the ferry back to Dakar, with plenty to reflect on. While I do wish we had had more time for our visit to the Maison des Esclaves, especially the exhibits on the upper floor, I still learned a lot and I'm very glad to have had this important confrontation with the history and modern traces of the slave trade.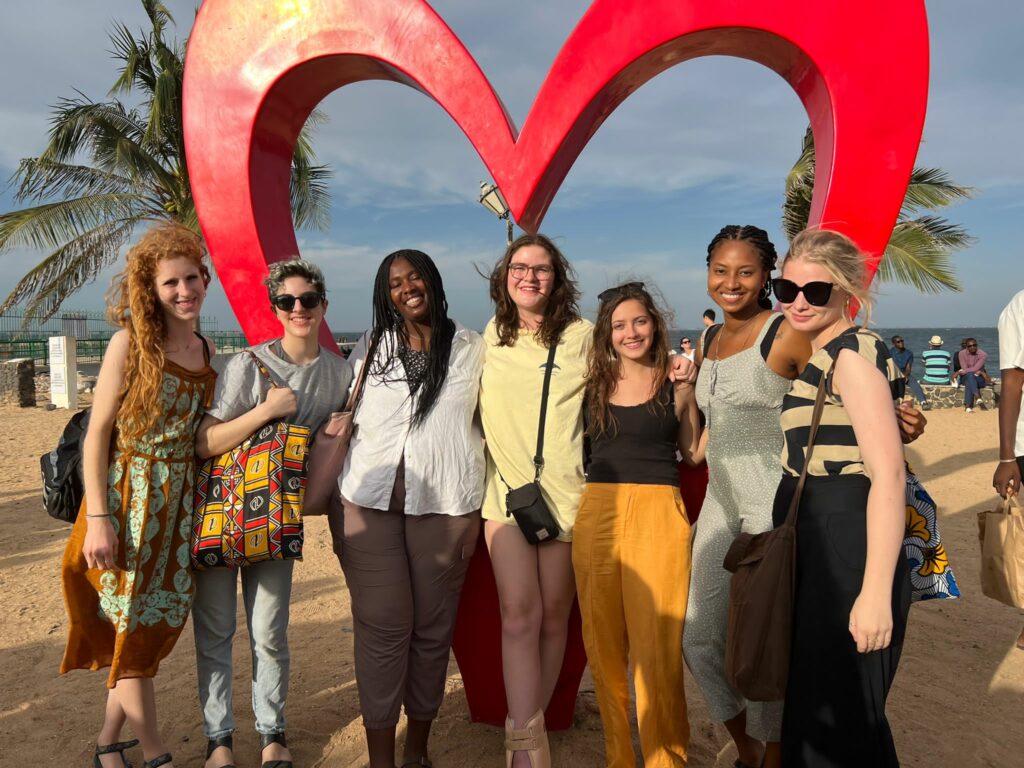 À bientôt!
Sources for historic information:
https://en.wikipedia.org/wiki/Gor%C3%A9e
https://www.britannica.com/place/Goree-Island
https://whc.unesco.org/en/list/26/
(And thank you to APA Dakar for their handout on Gorée's history and significance!)