Je suis la francophonie.
APA is a private higher education institution that embraces all that strive to become more understanding, culturally conscious global citizens. We are committed to ensuring each of our cohorts are representative of the diverse fabric of the Francophone diaspora and its 300 million French speakers.
Programs, course offerings, and syllabi are regularly reviewed by APA and advisory committee members as we work to provide inclusive academic and cultural content.
Our goal is to make your integration a success.
Our passion is providing you with a first-rate study abroad experience that unites academic excellence with the beauty and richness of French and Francophone culture. And for more than 30 years, we've been designing high-quality, personalized programs for internationally minded students just like you.
We believe that if you're looking for a truly authentic French or Francophone experience, APA is where you'll find it. From partnering with premier host institutions for hallmark course offerings, carefully selecting welcoming host families, and curating an array of cultural events, each piece of every program will allow you to discover French and Francophone life in a genuine and exciting way.
Most importantly, you will never be a face in a crowd. At APA, we take pride in getting to know our cohort members, asking for feedback and, always working our hardest to make sure your experience is nothing less than parfait!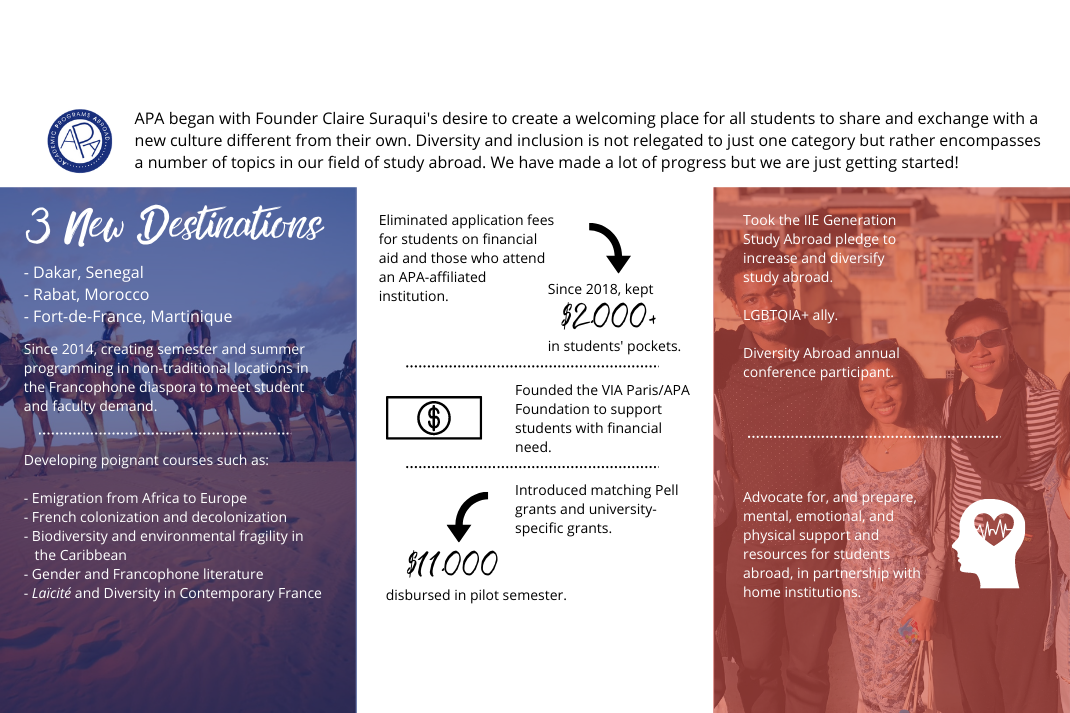 The program was great about its treatment of its students as individuals: I felt a sense of community and structure within the program, but also a great sense of independence to craft my experience and spend my free time in the ways that I desired. Everyone knew one anther, and great, lifelong relationships were formed as a result.
Taylor, Sewanee: University of the South
Read Our Student Blog