"Ici, tout est beau, bon, pas cher"
February 27, 2020
by Irene Vazquez
I promised last week that I would profiter de la ville, and in that spirit, I'm going to dedicate this week's blog post to one of my favorite things about living in Paris — the food. An old friend from high school was visiting this past weekend, and on our walk home from the Louvre, she asked me what my favorite French food was. I hesitated for a moment — what to pick? Duck confit, crepes, any of the numerous types of cheese that I love so dearly? I finally decided on something simple: The French croissants are unmatched. I think it's because they're not afraid of butter. 
You never forget your first French croissant. Mine was from Ernest et Valentin (a chain boulangerie, but one of the better ones in my opinion). It was Summer 2019, and my dad and I had just gotten off the train at Giverny for a day at Monet's house. I took a bite of that buttery glory and never looked back. 
I've had many wonderful croissants since then. Croissant from the boulangerie around the block on the way to class, croissants provided by our professor to make up for a rescheduled class in the morning. No two croissants are alike, but the best ones are shared with friends. 
I will say though, for someone who loves food as much as I do, I'm a horrible food photographer. It fills me with slightly too much Gen Z shame, but I take food photos more often when I'm traveling so I can send them to my dad. He's the real food photography artist in the family (when we travel together I like to take photos of him taking photos of the food). In his absence, I try to make up for it (even though I don't agonize over the lighting and angles like he does). 
I'd read this New York Times article on Paris' affordable dining renaissance just before leaving for the semester, and I made it my mission to check one of them out. We had a day off in the middle of the week because some of our professors were on vacation, so I took the afternoon to go to Bouillon Julien. The first bouillons appeared in Paris in the mid 19th century. They served traditional French food at affordable prices, and that mission is evident in Bouillon Julien's motto today — "Ici, tout est beau, bon, pas cher." Me and my copy of Saidiya Hartman's Wayward Lives were tucked into a table by the window for our noon reservation. I went all in on French tradition: Pâté en croûte (Pâté cooked in a crust of pastry dough), canard confit (my dad's favorite French dish), a mindblowing chocolate mousse for dessert, and a small carafe of chardonnay — what more could a girl ask for?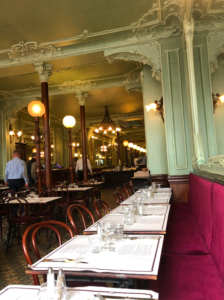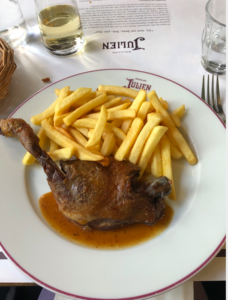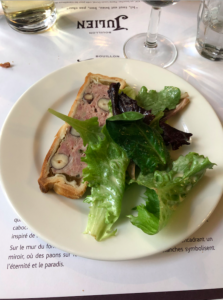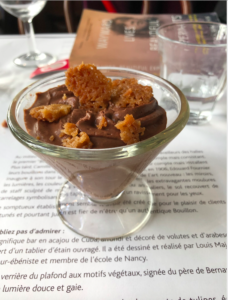 Sunday night, I had a friend over for dinner. I planned to make my go to dish in the States (brussel sprouts with bacon), but there were no chou de Bruxelles at the marche, so I was left searching for ideas. My host mom offered to teach me to make tortilla espagnole — a tapas take on the omelette. As soon as she told me there were caramelized onions involved, I was in. There's something so wonderful about a Sunday evening in the kitchen cooking, listening to music (I've introduced my host mom to Lucy Dacus — she loves her cover of "Dancing in the Dark"). It's made Paris feel like home, even if our time is drawing to a close. That's all for now — I have to go tuck into the leftovers. 
Word of the week: chanterelles (a variety of mushroom).
About the Author
Irene Vázquez is a junior at Yale, originally from Houston, Texas. She's a poet by both training and compulsion and serves as co-president of WORD: Performance Poetry at Yale. When she's not writing, she likes drinking coffee, buying too many books, and pointing out the differences between her Yale experience and that of Rory Gilmore.