Does your heart "beet" for healthy food?
January 27, 2020
by Lydia Brooks
Paris may be known for spectacular cheese and wine, but that doesn't mean you have to throw your dietary preferences and love of plant-based food to the wind. 
Paris has many a vegan faire to offer, and let me tell you, they do it right.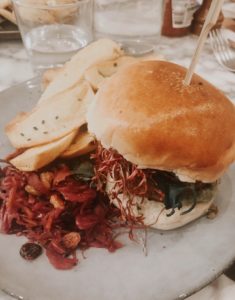 This gem is found in the heart of the Latin Quarter, situated on an adorable street filled with shops to peruse. This Australian based restaurant is the perfect spot for a casual night out with friends. The cocktail menu is full of fun ingredients and signature drinks. But the best thing on the menu, in my humble opinion, is the veggie burger and the house fries. To this day, this is the best veggie burger/fries combo I've ever had. Ever.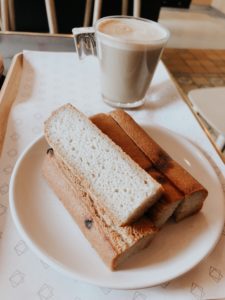 Chambelland is what patisserie dreams are made of. I discovered Chambelland through a lovely friend of mine who is Celiac, as everything in the shop is gluten free. About half of the items are vegan as well and absolutely scrumptious. It's also a great place to camp out for the day to do work.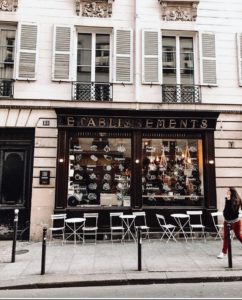 Another Australian transplant, this coffee shop has quickly become my second home in Paris. I have to remind myself to try new places because I love this one so much, I would go back every day! The menu features every kind of latte your heart could wish for, including my all-time favorite, the golden turmeric latte. The bakery case is always filled with date truffles as well as a pastry of the moment, which of course I always sample. 
Bonus: every single item in WM is vegan, gluten-free, and chock full of wholesome ingredients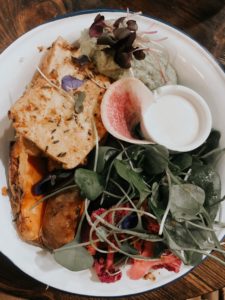 Aujourd'hui Demain is my newest discovery. I found this restaurant when a friend and I were searching for a place close to the Opera Bastille.  This half restaurant/half shop has an entirely vegan menu that features dishes from jackfruit tacos to vegan nachos. We both ordered the tofu bowl special and were very pleased with our decision. We were only able to explore a little bit of the store, but it was filled with everything vegan from snacks to clothing to cook books. I will definitely be returning with a bigger bag. 
Bonus: there's a vegan patisserie two doors down that looks very promising as well!