Dakar Summer 2022!
July 19, 2022
by Lindsay Turlan
Greetings to everyone from Dakar, Senegal! It has been a whirlwind experience arriving in the « pays de Teranga » (country of Senegalese hospitality) and acclimating to daily life here.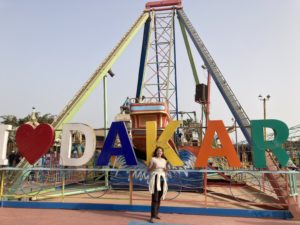 As someone from a predominantly Catholic, Midwestern area, one of the main questions I encountered before coming to a majority Muslim, West African country was "You're a French major; why aren't you going to France?" Being a French major, though, was the very reason I decided NOT to go to France — there are so many cultures and identities that think, speak, and communicate using the French language outside of the « l'hexagone » (the hexagonal country that is France). Being in Senegal is one of the many ways I can experience French as something alive, not as words in a textbook or answers on a test. Specifically, I have paid close attention to the way people use the "common" language of Wolof and the "standard" language of French. Learning Wolof whilst improving my French is not easy, but it is rewarding! I have made many friends on my walks to and from school with a simple « assalamou aleykum » (the standard greeting).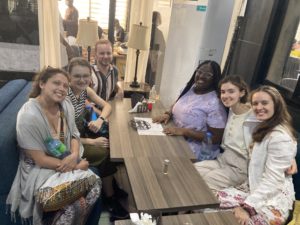 As for living here, I think one of the best parts is the cuisine. Whether it's my host mom's home cooked « yassa poulet » (chicken yassa), a dish with marinated chicken, rice, and a divine onion sauce that I absolutely HAVE to get the recipe for. The entire group has become addicted to the fresh-pressed juices served everywhere — « bissap » (hibiscus), « gingembre » (ginger), and « bouye » (baobab fruit) drinks have become staples in our diets. Regional dishes like yassa poulet are perfect for those in our group with gluten and dairy allergies, and restaurants are always accommodating for the vegetarians/pescatarians in our group of 8.
Another aspect of daily life that I already know I will miss is the walkability. Thankfully, I live in the same neighborhood as ISM, where we take classes, so I walk to and from school every day. The weather is nice, the people are nice, the walk is nice — everything is perfect! Those of us who live in this neighborhood often walk to school together and chat about our host families, our homework, or our plans for the day.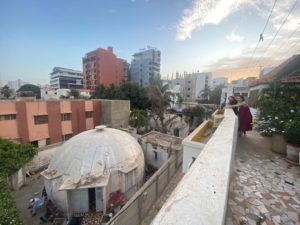 Every day, we get lunch together somewhere in the area. Within days, we « femmes de point E » (women of our neighborhood, point E) became fast friends. One thing we love the most about the stay so far is the freedom to hang out outside of classes, whether that means reading on the beach or grabbing ice cream or granitas (slushies) in our free time.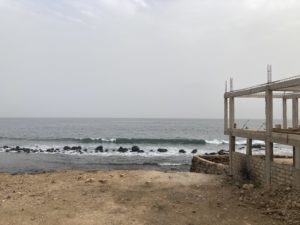 My stay in Dakar thus far has been nothing short of incredible — I feel like I am living the French language through Senegalese culture. I have no doubts that I will return to the States a changed person.  – Marina Riad
About the Author
Marina is a senior French and Anthropology major from Scripps College in California with a desire to explore the Francophone world and learn more about the rich culture that Senegal has to offer.