Clara's Guide to Paris
April 26, 2018
by apaparis
Today while I was procrastinating starting one of my five (five!!!!!!!) papers due next week, I decided to instead start writing a guide to the city of Paris. And now I share this list with you, cos I love you.
Things to see: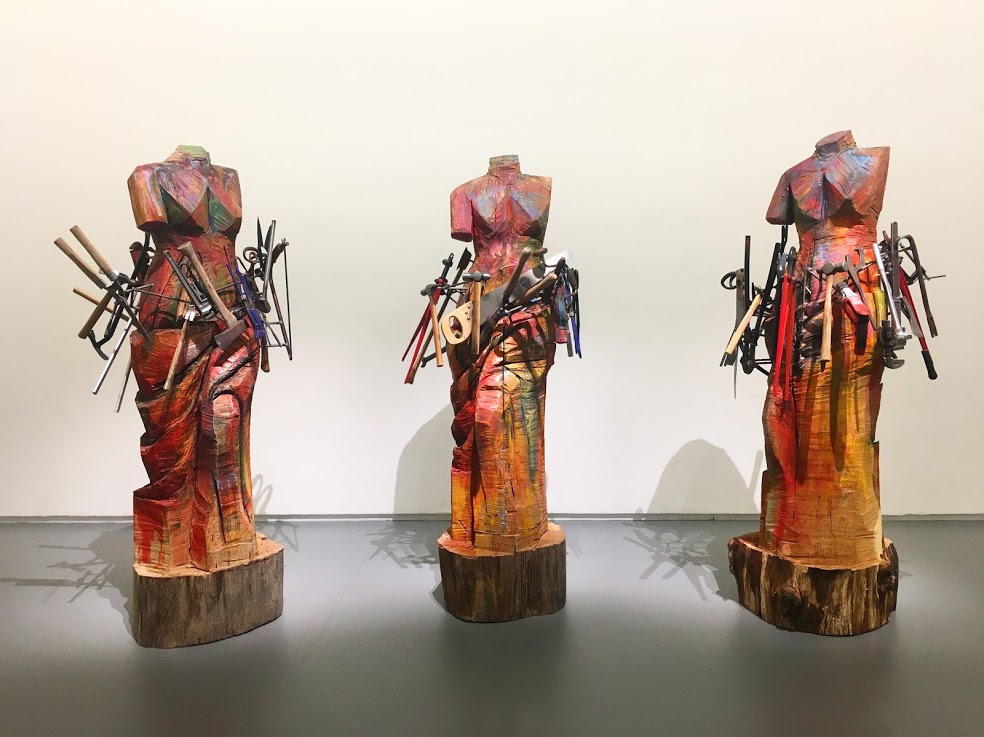 Museums

Musée de l'Orangerie

Giant Monet water lily paintings covering the walls of oval-shaped rooms

Monet made these works as a gift to France and designed the rooms himself

This is an incredibly beautiful reflective space, there is nowhere else like it

Centre Pompidou

One of the most important museums of modern art in Europe

The modern collection is better than the contemporary collection and the rooms are organized into artistic themes rather than time periods or artists, which makes for a very cohesive viewing

Musée Nissim de Camondo

An 18th-century house decorated painstakingly with 17th-century beaux-arts furniture

It's never crowded and the entire house is perfectly staged so you feel like you're walking through the house exactly as it was

This is amazing and you could only see it in Paris

Musée d'Orsay

An old gare converted into a beautiful, airy impressionist museum

Not overwhelmingly large, you can see the whole museum in an afternoon

Houses all the Monet/Manet/Degas masterpieces that you can imagine

Sculptures down the center of the museum when you walk in so that sculpture doesn't get forgotten

The Louvre

This museum is huge and overwhelming so you must go in with a plan and a specific wing you want to see

The hall of Greek and Roman sculpture is amazing — it has super high ceilings and trees planted inside

Look for a painting called "Gabrielle Estrées et une de ses soeurs," it's the most iconic painting in Paris

Palais de Tokyo

Contemporary art museum with really weird but really cool temporary exhibits

It's called Palais de Tokyo after the name of the street it used to be on, not for any sort of Japanese influence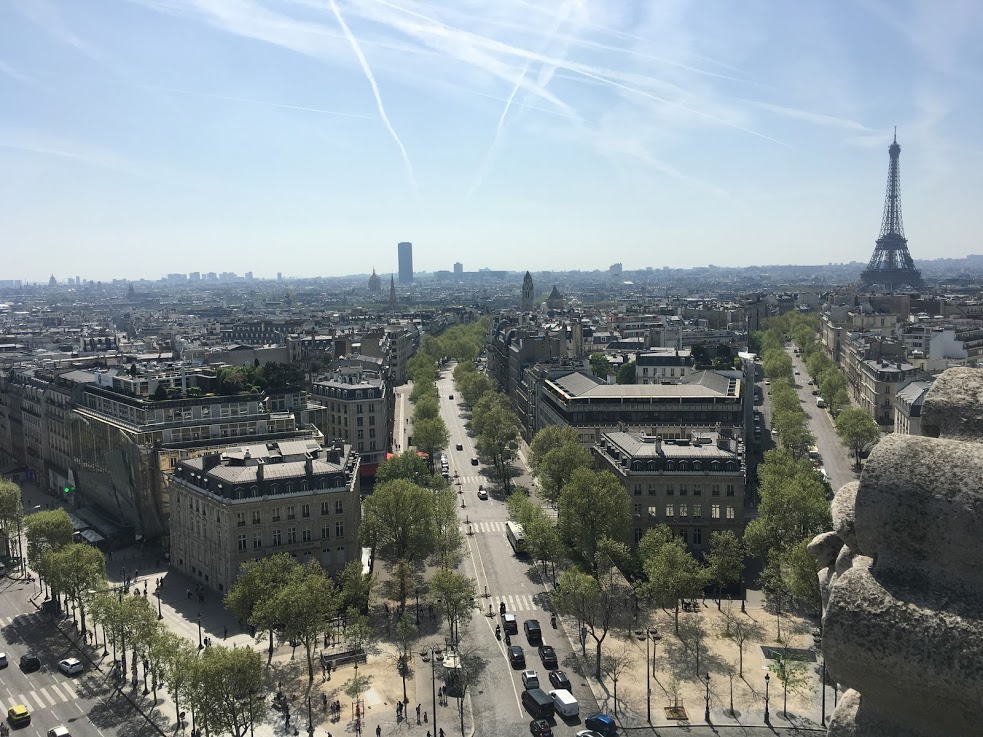 Monuments

Arc de Triomphe

It's absolutely worth climbing up to the top of the Arc de Triomphe on a clear day

You can see the entire city

You will understand the plan of the city, with the six main boulevards branching off of the Etoile

Eiffel Tower

At night, the tower sparkles for 5 minutes on the hour until 1am

The best view is from Trocadéro, where you can treat yourself to a delicious crèpe from one of the stands

Sainte-Chapelle

An insanely beautiful, completely stained glass chapel that makes you feel like you're inside of a jewel box

Hôtel de Ville

I think this might be the prettiest building in Paris

Right across the river from Notre Dame

Rue Cremeuse

A tiny street where all of the houses are painted bright pastel colors

A nice change of pace from the beige and slate buildings you see everywhere

Sacre Coeur

Go in the morning when there aren't a lot of tourists around and watch the sun rise

Beware of any vendor who approaches you, especially if they're holding bracelets or a Chinese finger trap
Places to study:
Libraries

Bibliothèque Forney

Art history library that looks like a castle

Pro: never crowded, outlets, pretty

Con: limited hours, slow wifi

Gaité Lyrique

Free study space in Le Marais

Pro: never crowded, good hours, free

Con: no air circulation

Bibliothèque Diderot

Diderot's university library

Pro: free, right on campus, fast wifi, view of the Seine while you study

Con: limited to Diderot students, far away from everything

Cafés

Anticafé Beaubourg

Anticafé near the Pompidou

Pro: awesome snacks and coffee, fast wifi, productive ambiance

Con: costs 5€/hr
Parks:
Parc de Sceaux

Beautiful chateau and grounds 40 minutes outside Paris on the RER

If you go in the spring, there is a grove of thousands of pink and white cherry blossoms — les cerisiers

Parc Montsouris

A great park for hanging out or running

Within walking distance of APA (20 minutes)

Jardin de Luxembourg

Another excellent picnic location

Beautiful flowers and a giant grassy lawn

Parc de la Turlure

Tiny park in Montmartre

Never crowded and full of tourists like the steps of Sacre Coeur usually are

Tuileries

The best example of a typical French garden in Paris

The Louvre is on one end and the Orangerie is on the other

Bois de Boulogne

Come in the springtime with a picnic and rent a little boat to take out on the lake for 8€
Places to shop:
Shakespeare and Co.

The largest English-language bookstore outside of an English speaking country

All of the great writers passed through here in the 1920s — Hemingway, Gertrude Stein, Scott Fitzgerald

The books are stacked to the ceiling in a labyrinth of tiny rooms, and there's a cat that lives on the second floor

BHV Marais

Basically French Nordstrom — a bougie department store, but they're guaranteed to have anything you could possibly want

Go during the soldes in late January/early February and get amazing deals on shoes, wallets, and bags

I've bought watercolor supplies, a wallet, books, sneakers, and stationary here
Food: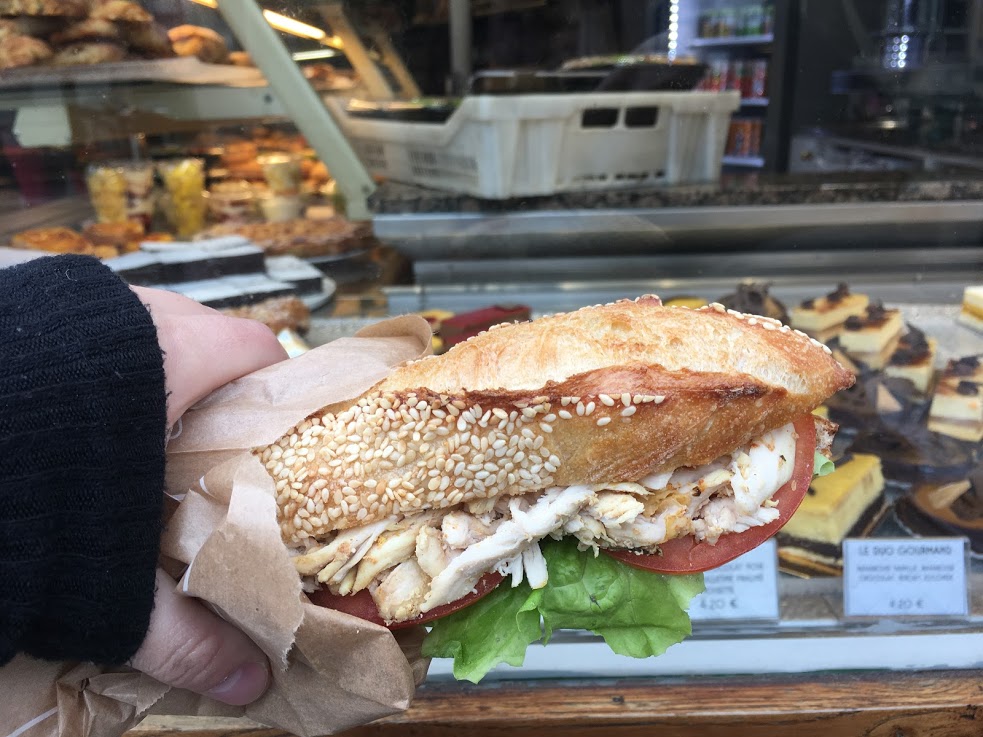 The boulangerie on Rue d'Alésia

Not the one just around the corner from APA, but down the street in the opposite direction of the metro

Amazing croissants and a delicious barbecue chicken sandwich

Chez Justine

Delicious thin-crust pizza in the 19th along Oberkampf

Affordable pizza and drinks

Rotisserie chicken from a boucherie

The rotisserie chicken you can buy off the spit on the street tastes as good as it smells

Make sure to ask for sauce to ensure that your chicken is moist

Sometimes you can buy potatoes from the bottom spit that have been roasting in chicken fat all day
Nightlife: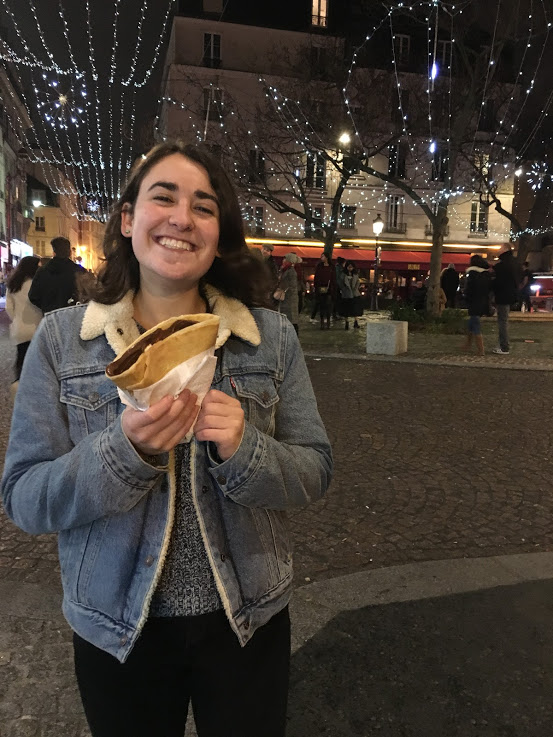 L'Attirail

Cheap bar in Le Marais

Cocktails are 5,50€

They bring you free delicious potatoes

Rue Mouffetard

Fun street to go bar hopping, lots of small dance-y bars

Cute cobblestone street with a fountain at the end that you can sit at with a bottle of wine

Entire street is lined with crepe stands so if you get hungry you're all set!

Faust

Outdoor cocktail bar along the Seine, right under Pont Alexandre III

Good music and turns into a club inside at midnight

Wall Street Bar

The drinks change prices on the board like stocks, so it's fun to wait for things to get cheaper and place your order

Mecano Bar

Fun bar on Oberkampf that turns into a dance floor at midnight

Le Perchoir Marais

Bougie rooftop bar on top of the BHV

Amazing views and nice ambiance

Sheep shaped chairs and fun music at night

Drinking wine along the Seine

Cheaper than a bar

If it's nice out, a wonderful way to spend a night
Off to finish the remaining items on my Paris Bucket List!
Clara (or as the French still say when I try to introduce myself, "Ohhh, where are you from?")