Castles and Princesses
May 8, 2019
by Ryan Griffin
One of my absolute favorite things about studying abroad with APA is that they have built in pre-paid trips to other cities in France for us to further explore the culture and history. Our first one was to the north of France to Normandie, which I had already visited in high school but instead of seeing the D-day beaches like the last time, we went to St. Malo and Mont St. Michel. While the names of these northern French beach towns may not wring any bells, you'll probably recognize pictures as Mont St. Michel is actually the inspiration behind Disney's castle in Tangled.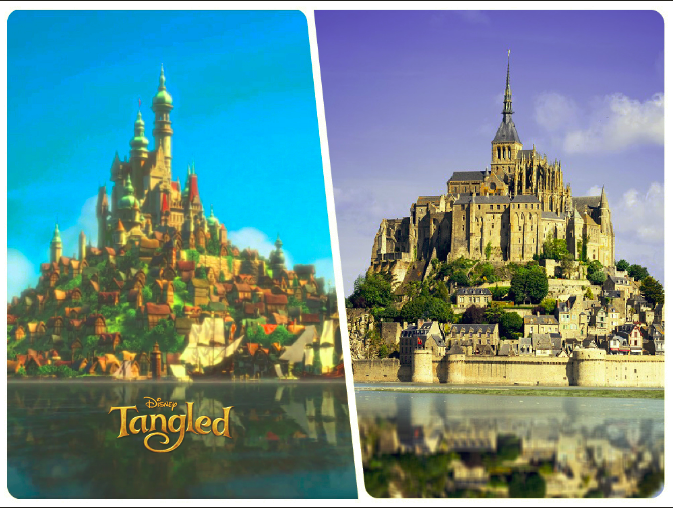 While that was the first one way back in January, our very last one to Les Chateaux de la Loire was actually incredible!! We all were a bit skeptical as someone amongst the twenty-something of us had started a rumors about us sleeping outside as if we were "glamping"; however, to our surprise it was quite the opposite.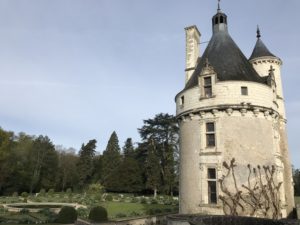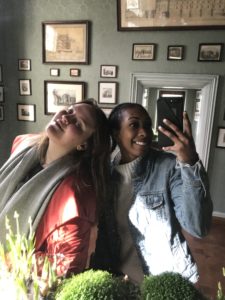 After walking around snapping loads of photos at the different castle grounds in the chilly April air all day we had truly worked up a rather hearty appetite and couldn't wait to feast on whatever goodies our host had prepared for us. As the place we were staying would feed us for both dinner and breakfast the next day. So upon arrival rather than a glorified campground we found a rather lovely arrangement of small houses where we each broke up into groups to fill up all the rooms. In conclusion, absolutely nothing like the sleeping bag, rain tarp, use a flashlight-to-pee-in-the-wood image I had prepared in the back of my head just in case. But instead it was truly so cute and cozy we all started giggling as all six of us had somehow ended up in the bathroom huddled around the heater thinking how it suddenly felt like we had rented this place as a beach house for an impromptu girls trip.
Having had just come back from our private APA organic wine tasting *pinkies up* we were feeling quite fancy as most of the group had bought bottles of wine to share with their host families or their American ones since it was so inexpensive to be so freshly made and local. Normally in the States we are used to paying the import tax which bumps even the cheap wine up to $7-20, but in Europe since everything is made on that side of the world anyway the grocery store 3 euro wine is normal for all of our French friends.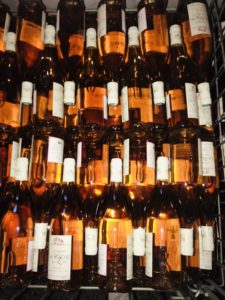 So after settling in we had an amazing dinner of course full course like the French prefer, starting with an obligatory cheese and wine aperitif. However, rather than our usual french range of cheeses this entire weekend was goat themed since that's what the Loire Valley is known for. So to my initial demise I was pretty bummed as that is just the one cheese I normally just cannot get behind; however, since we are abroad many of us who were originally anti-chevre did roll up our sleeves and try a few pieces. Partially out of sheer hunger but also dedication to the say-yes/ YOLO abroad lifestyle.
After two bottles of wine and a couple trays of bread and cheese demolished and leaving only a trail of crumbs we moved our grazing into the dining room for some true American Paul Bunyon style serving sizes of homemade lasagna. Boy oh boy were we stuffed to the brim after that. But as if we were living in an infomercial where they tell you another deal, Blandine runs out of the kitchen and says (in French) "BUT WAIT theres more…" bringing us huge bowls of salad and vinaigrette. But just when you think you got it, let me tell you, you probably don't. We all began cutting away at the huge romaine leaves attempting to eat as much vegetables as we can fit, until Astrid eventually shows us the light. Presenting us uncultured American students the french way of folding your salad with your fork rather than savagely cutting it with, heaven forbid, your knife. I only kid because it was truly hilarious for us to hear how we would've been actually scolded for cutting the large salad leaves by our imaginary french grandmothers, while our real american ones would probably do the exact opposite and praise us for having good manners.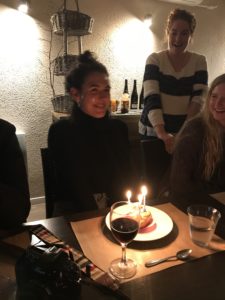 So after our brief étiquette lesson we were back in the good graces of  the french gods and move on to birthday dessert as we celebrated Olivia Black, our only senior's last college birthday, with an intricate fruit tart and of course more wine. We ended up playing cards and blasting Taylor Swift through one of my two phones till midnight and then very romantically as our girls trip honeymoon (plus Greg and Jason) would imply sat outside and stargazed outside our country beach houses till we we couldn't feel our toes from the cold.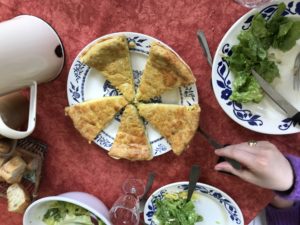 After a splendid breakfast full of pastries and jam we sad goodbye to our new digs and hopped back onto the bus. After seeing some more castles we got a surprise outdoor activity instead of another tour and were just giddy with excitement to "play" outside and soak up the fleeting sun rays before heading back to Paris on our 4 hour bus ride. Greg, Rachel, Sarah, and I chose to do a boat ride on the river surrounding the castle property, so naturally had a blast practicing our boating skills for our future yachting adventures.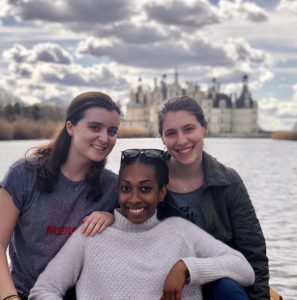 We ended up getting tons of pictures and giving the occasional  *princess wave to the *peasants… I mean the other students on their rental bikes as they whizzed by. I simply couldn't help feel like Princess Kate or the Queen with Greg as our professional boat driver touring us around the castle grounds. Oh well one day! Mark(le) my words, next time I won't just be touring, I'll be moving in. #LoireValley2024
Too-da-loo,
Ryan