Weekend à Saint Malo et Mont Saint Michel
February 13, 2020
by Lydia Brooks
This weekend we departed for the west of France to visit the city of Saint Malo and the famed Mont Saint Michel. 
I was especially excited for this trip because visiting Mont St Michel had been an item on my bucket list for a while. I had stumbled across a gorgeous picture of the island on Pinterest when I was a freshman in high school. I immediately added it to my bucket list and couldn't believe my luck when APA announced we were taking a weekend trip to visit it. 
But even I wasn't exactly sure what Mont Saint Michel was. What started out as simply an abbey, this island holds a tiny community of shops and cafes, all watched over by gravity-defying monastery.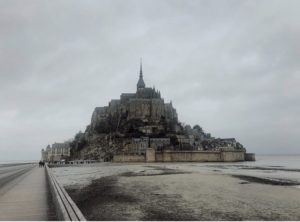 As we walked the path, Mont Saint Michel growing before us, we were able to take in the beautiful area surrounding the island. The state of the area depends solely on the tide. The city has taken special precautions to preserve Mont Saint Michel's maritime nature. 
While the walk up to the abbey feels almost vertical, the sites at the top were nothing if not worth the work. The abbey itself is reverent and an amazing architectural feat. And the views of the surrounding areas from the top are spectacular. 
On the drive up, we stopped in Cancale, a tiny seaside town known for its oysters. Even though it might have been a little early in the morning for oysters, I couldn't pass up the opportunity to taste a famous cancale oyster!