The Spooky Pigeon
November 2, 2015
by apaparis
As the world well knows, this past weekend was Halloween!
Halloween is my favorite holiday of all time. For me it ranks above Christmas, St. Patrick's Day and my birthday. While our study abroad advisors were warning us about the homesickness that comes with the fall season and Thanksgiving, Halloween is the first and probably only time I feel the twinge of missing home. In the US, candy, costumes, parties, and all those fall activities are not only done but are considered necessary for a good time on Halloween, but that's not the case in France. So in search of having my Halloween and getting spooked on it too, I found a few fun things to do that actually exposed me to a few new parts of Paris.
The day before Halloween, a friend and I headed over to la Cimetière Père Lachaise, also known as the largest and oldest cemetery in Paris. Famous persons such as Oscar Wilde, Eugène Delacroix, Molière and the Raspail family have been laid to rest in tombs in the 110 acres of Père Lachaise. Our first mistake was going at dusk.
This cemetery would be spooky even in the daylight, but as the sun lowered over the hundreds of years old mausoleums and gravestones, overgrown with roots and leaves, placed so close together they nearly start to pile on top of one another, the cemetery became a living, breathing haunted graveyard.
As we wound our way through the cobblestone pathways that interrupted the never-ending sea of tombs, and the last rays of sun reached over the dying trees, the wind began to blow harder, picking up the fall leaves in a cold swirl that prompted a crow to call out to the dead beneath the ground…
So maybe I got a little spooked. But it was entirely worth it and gave me the Halloween thrills I look for every year. Besides being incredibly creepy, the cemetery has beautiful stonework, statues, memorials and several gardens on the grounds.
I also highly recommend going on November 1st, or All Saint's Day, the day when the French celebrate lost loved ones and Saints by decorating the cemeteries of France with flowers, most specifically chrysanthemums, such as these at la Cimetière Montparnasse: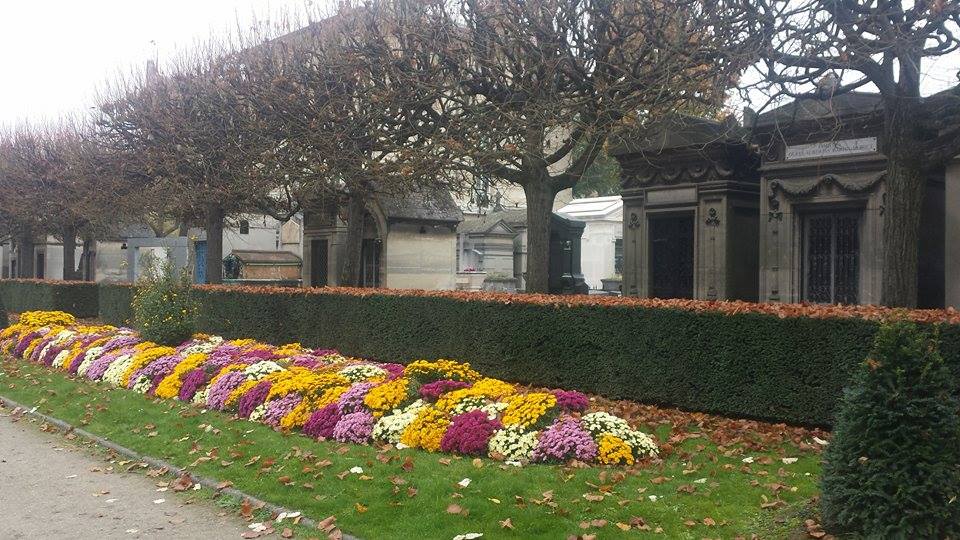 And it wasn't all spooky. I finally got to thank this man in person at Père Lachaise for his wonderful contribution to the literary world:
And of course, that leaves Halloween night. My last Halloween at GW was spent doing the Time Warp with the Transvestites of the Rocky Horror Picture Show cast one of our student theatre production groups puts on each year, so when I went online and caught wind of a showing in Paris on Halloween, I knew that's where I needed to be. While it was a bit odd going to see an American film with a French crowd, everyone was just as enthusiastic as they would be in the States. Fishnet tights, elaborate makeup and plenty of cross-dressing filled an old warehouse in the 19th arrondissement as everyone danced and sang alone with Tim Curry so loudly that the movie was barely audible. Just as it should be.
I also got to meet some pretty interesting characters on the dance floor after the movie ended, so I'd say it was a Halloween night perfectly spent.